Rajneeti or New Mahabharata ? Lets read the relative story.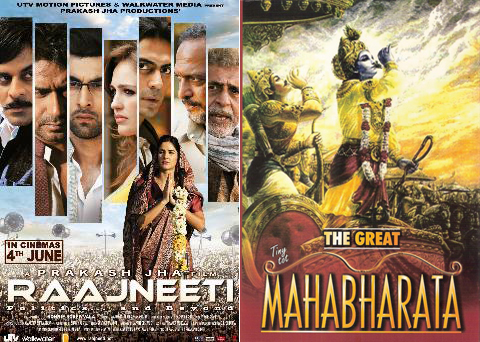 Well, the movie Rajneeti is nothing but a modern version of Mahabharat. The movie is not based on Sonia Gandhi as rumours were. To be precise, its script seems to be copied not from any other scriptwriter, rather the script is based on the biggest epic of India – Mahabharata.
If you do not know Mahabharata's story then the movie is good, otherwise also it's worth a watch and i wont say it is bad. All the actors in the movie have performed well be it Ajay Devgn (not Devgan, that's how he spells his name now, may be because of astrology), Ranbir Kapoor, Nana Patekar, Manoj Bajpai or Arjun Rampal. As contrary to many critics, i do not believe, that Arjun Rampal doesn't act. I think he acts well and he has his own style of acting as everyone else does. Movie also marks a great comeback for Manoj Bajpai and i hope to see him more movies in similar roles.
Over all on the Dood Meter I will rate this movie 2.5 out of 5, as i expected something new from Prakash Jha, not a copy of our very own epic saga.
Dood Meter: $$-
Director: Prakash Jha
Cast:-
Ajay Devgan – Karna/Suraj
Ranbir Kapoor – Arjun/Samar
Arjun Rampal – Yudishtira/Prithvi
Manoj Bajpai – Duryodhan/Viru
Nana Patekar – Krishna/Brij Gopal
Katrina Kaif – Draupadi/Indu
Genre: Drama
I can relate almost each actor in the movie with a character in the epic. The story goes somewhat same way as Mahabharata. It's the same story as who will occupy the throne, this time the throne happened to be Chief's Minister's Throne. So let me start with the comparison. I will say character's name as were in Mahabharata :-).
A Big politician's daughter, Kunti, got attracted to Surya Dev (Naseerudin Shah), and got pregnant with his child, Karna. Surya Dev left her as he thought it was a mistake. Kunti's brother took that baby and left him at Banaras Ghat and got Kunti married to younger brother of then ruling Chief Minister, which can be considered same as Dhritrashtra, and his younger brother Pandu. Kunti gave birth to two children (yea just two) – Yudhishtir (Arjun Rampal) and Arjun (Ranbir Kapoor). Their father's elder brother Dhritrashtra had one son (not 100), Duryodhan (Manoj Bajpai).
As in those days we had Saarthi's, we have drivers this time. So as in Mahabharata, Karna was a Soot Putra (saarthi's Putra), as he was raised by a Saarthi, this time a driver raised Kunti's first child Karna (Ajay Devgn). Ajay Devgn, i mean Karna, became leader of Dalit's people.
So, one sad day, Dhritrashtra got an attack and got paralysis. Now both Yudhisthira (Arjun Rampal) and Duryodhana (Manoj Bajpai) were eyeing the throne. However, Arjun Rampal's father was appointed as the new leader of the party. Elections time was coming and party had to appoint candidates from different locations. Manoj Bajpai wanted his list of candidates and Arjun Rampal his list. In the Dalit region, Arjun Rampal declared one candidate, but people wanted theur leader to be Karna (Ajay
Devgn). In the next Party Meeting, Karna stormed in and said that people should decide the candidate. Then he was told who the hell he is to storm into the meeting and he has no say here as he is not part of the party. Then Duryodhana, having constitutional rights, appointed Karna as one of the party members, for his own political benefits, same as in Mahabharata.
And then one day, Duryodhana with the help of Karna, killed Pandu. Duryodhana took over the throne, and Pandavas were given Vanvas (exile) from their own party. But then with help of Krishna, Nana Patekar, they formed a new party.
Meanwhile, Katrina Kaif, who i think is a loose adaptation of Draupadi, was in love with Arjun (Ranbir Kapoor). But for political reasons, Draupadi got married to Yudhishtira (Arjun Rampal).
Initially, it was Ranbir Kapoor who used Krishna like Politics but later it was Nana Patekar, who played the role of Lord Krishna in guiding Arjun (Ranbir Kapoor).
Kunti even got to know that Karna is his own son, and as suggested by Krishna (Nana Patekar), she went to Karna and told him that he is her eldest son and he should join Pandavas, and b ecome Chief Minister being eldest son. But, being loyal to Duryodhana, he rejects the offer. So the things went on and in the leadership of Krishna, finally the party won.