Surprisingly better movies than Batman V Superman according to Rotten Tomatoes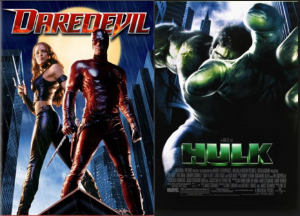 Batman V Superman : Dawn of Justice has been receiving poor reviews by Critics and it's currently at 30% at Rotten Tomatoes. I fail to understand how this movie is worse than Ben Affleck's Daredevil (2003) which has a score of 44% and how come movies such as Fantastic Four: Rise of the Silver Surfer (2007) and Eric Bana's  Hulk (2003) are better? Hulk has 61% of score by Critics on Rotten Tomatoes bur it's audience rating is just 29%.
At this rate this movie can fall down even below the most boring DC comics movie – Green Lantern (26%).
Here are few movies which are better on Tomatometer than Dawn of Justice, however, based on Audience score and my liking they should be worse.
Do you agree that Batman V Superman be rated less than these movie?
And check out this Batman V Superman movie review with some explanation what went in the movie.
Comic Book/Superhero movies
| Movie | Tomatometer |
| --- | --- |
| The Hulk (2003) | 61 % |
| BLADE II (2002) | 57 % |
| BLADE (1998) | 54 % |
| Daredevil (2003) | 44 % |
| The Green Hornet (2011) | 43 % |
| Fantastic Four: Rise of the Silver Surfer (2007) | 37 % |
Non Comic book movies
| Movie | Tomatometer |
| --- | --- |
| Terminator 3: Rise of The Machines (2003) | 70 % |
| Planet of the Apes (2001) | 45 % |
| Cowboys & Aliens (2011) | 44 % |