We Don't like Indian Government says a UK Magazine
September 2010 issue of a UK published magazine titled WebUser says that it doesn't like Indian Government. The magazine usually puts a content on the sidebar of one its section titled "We don't Like". This time Indian Government has to get featured in that section.

The reason that our government gets featured in this section is that Indian Home Ministry has asked any Company operating in India to reveal any data when asked by Government.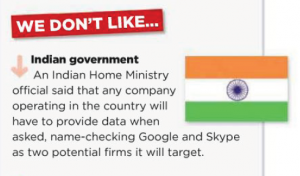 European Union is already known to be too concerned about their data, that's the reason they had issues with Microsoft's Cloud Computing solution of Azure having their data present outside Europe.
Well, i feel that revealing all the data by an company such as Google to government doesn't go with the companies privacy policy. First with Blackberry and now with other companies, i hope India doesn't lose out as China did.