Internet Explorer 9 screenshots leaked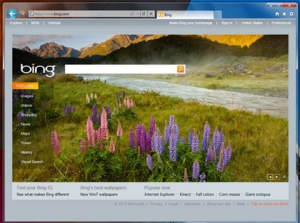 Details disclosing how Internet Explorer's latest version will look have been accidentally revealed online. A blog post on Microsoft's Russian-language site, which was quickly removed, showed the browser's user interface, which had until then been kept under wraps. Microsoft will release the first public beta of IE9 on 15 September.
One of the most notable changes is that IE8's multiple menu
buttons have been condensed into a single menu. Some features, such as the larger Back button, are similar in design to IE's main competitor Firefox.
Overall, the design is simpler, with more space dedicated to displaying the web page and fewer menus and buttons, a minimalist look used by both Chrome and Opera. Microsoft hasn't officially commented on the screenshot or said that it is representative of the public beta that will launch later this month.
However, IE9 is not for Windows XP users. This means that Microsoft will be the first of major broswer makers to drop support for Windows XP. A Microsoft spokesperson said :
Internet Explorer 9 requires the modern graphics and security underpinnings that have come since 2001,