Canon Powershot SX40 HS Review
When you consider the price of Canon's new Powershot: SX40 HS, you wonder why you should be paying almost a DSLR's price for a digital camera. Then you take the camera around and you realise that SX40 is indeed worth every penny you pay for it.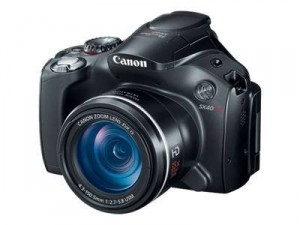 Canon's SX cameras used the CCD image sensor. The new one in the series replaces it with a CMOS sensor and this ushers in an awful lot in terms of perfromance. Experts will tell you that the difference between CCD and CMOS image processing is akin to picture creation on a CRT and LCD monitors. This fact is perhaps crucial, fr the SX40 is no commpact digital. It might be just 12.1 megapixels but it comes with an optical zoom of 35X. In 35 mm camera equivalent, this translates into an awesome 24-840 mm zoom. A lens of that capability would be a virtual cannon on a DSLR, but on the SX40, it neatly fits into a body that is small and light.

The zoom works superbly and is able to capture distinct images from a great distance away. We had to sometimes use the manual focus to ensure the shapest image at full 35X zoom, but the results were satisfying. The colour and the sharpness are not compromised by the distance of the subject from the camera. At the opposite end, the macro shots are amazing. which can be seen by clicking images of an ant or insect.
Also, camera caputres a wide layers of scenes with colour integrity and remarkable sharpness across depths – and all with minimum fuss. In a nutshell, the Canon SX40 HS is worth the money you spend on it.
Best Buys
Buy from Sears at $379.99 (INR 25,894.05)
Buy from PC Connection Express at $379.95