Stinking Corpse Flower : A Flower that Stinks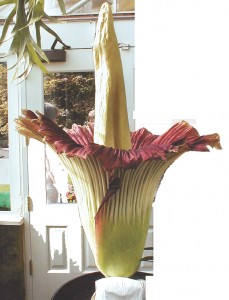 Normally, when we talk about flowers, we relate them with fragrances; but in Northern Switzerland's city Basel, a flower has grown that releases foul smell and that too of a rotten flesh.
These days thousands of people are visitng Basel just to see this huge and strange flower. Although the name of this flower is Amorphophallus titanum (Titam Arum), it is famous as "Stinking Flower" or "Corpse Flower". This flower is the first of it's kind that bloomed in Switzerland for the first time in 75 years. This is also the biggest flower ever seen. It is around 2 meters i.e. 6.6 feet in height.
Many specialists say that this flower will die soon. This flower has been grown only 134 times in the world with lot of effort. This flower originates from Indonesia's Sumatra island.