Museums and Galleries are just a click away with Google Art Project
Are you the one who is really moved by art, and love to visit varous art galleries and museum. There are lot of us who wish to visit the Art Galleries and Museums throughout the world, specially in Europe. Now this is just a click away.
Recently, in Februrary 2011, Google has launched a yet new breakthorugh project titled Google Art Project.
This project lets you explore the museums from around the world and view numerous artworks. You can view these masterpieces from various angles, with various Zoom Levels and even you can create your own collection of the masterpieces you like and Share with your friends.
Currently it has 17 world class Art Galleries and Museums in its catalogue. You can either explore the whole museum as you would have done on foot (similar to google map street view), or you can just browse through the art work of the selected museum.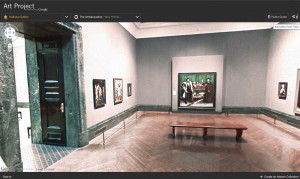 The technology used to explore the museums is Google's very own Street View technology. You can move through the museum virutally, where you can navigate through the floor plans and just stand near an Art Work on the wall to view it closely. In the second view, which is the Artwork View, you can view various Artworks at high resolutions and you can zoom at your desired view. You can also view the information related to the artwork, and can find more works by the same artist or watch the related videos on youtube. You can save specific views of any of the artworks and build your own personalised collection, add your own comments and share it with your friends and family.
Though, it shows number of paintings but still the exact count of artwork displayed in the project is not same as in the actual museum. This is because, google art project shows only those artworks that each museum has allowed to share for public view. Also, few painitngs are blurred due to copyright issues.
Currently following museums are included in the project:
Alte Nationalgalerie, Berlin – Germany
Freer Gallery of Art, Smithsonian, Washington DC – USA
The Frick Collection, NYC – USA
Gemäldegalerie, Berlin – Germany
The Metropolitan Museum of Art, NYC – USA
MoMA, The Museum of Modern Art, NYC – USA
Museo Reina Sofia, Madrid – Spain
Museo Thyssen – Bornemisza, Madrid – Spain
Museum Kampa, Prague – Czech Republic
National Gallery, London – UK
Palace of Versailles – France
Rijksmuseum, Amsterdam – The Netherlands
The State Hermitage Museum, St Petersburg – Russia
State Tretyakov Gallery, Moscow – Russia
Tate Britain, London – UK
Uffizi Gallery, Florence – Italy
Van Gogh Museum, Amsterdam – The Netherlands
Even though current partners are just 17 in numbers, collection of artworks is huge and is really authentic. We can expect more artworks and partner museums soon. Check out the Google Art Project at http://www.googleartproject.com