Haunted – India's first 3D Horror Movie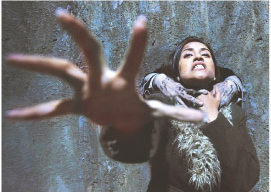 Vikram Bhatt is making India's first 3D Horror Movie, and it is titled "Haunted". Vikram Bhatt has already made three horror movies – the two Raaz and 1920, and now he has relaised that he has to do something special with the visuals. So he cam up with the idea of Haunted and he shot this movie in 3D. For this movie, Bhatt has specially got a custom made 3D camera system and Canada's top 3D technicians.
The main characters of this movie are played by Mithun Chakraborty's son, Mahakshay Chakraborty, and a newcomer Tiya Vajpayi.
The story of this movie revolves around the events in a haunted house and a thrilling past. The movie starts with the present, and then it goes into past. The movie will be released on 15th April 2011.