Rishi Desai was robbed of MasterChef title, Launches his first cook book, 'Modern Indian'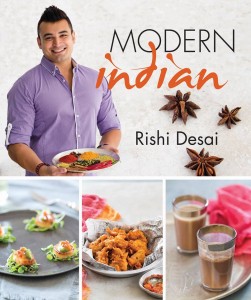 Last year's Masterchef Australia contestant, Rishi Desai has launched his first cook book, "Modern India". Masterchef Australia posted below post, and the comments on this post went viral, with people from Australia and India alike, mentioning that Rishi deserved to win or at least be in the finals of Masterchef last year.
Here are few comments about what some people had to say about him:
Evan Parsons Rishi should have won last year, instead of that Emma chick

Dawn Paidoussi Rishi you so should have won Masterchef !!! Never been so disappointed in the show as that one !!! You rock 

Evelyn Readhead So glad to hear a Rishi is doing so well. Hope we will be able to get his book in a South Africa. Was very disappointed when he went out of Masterchef as I feel he was by far a much better cook than Emma will ever be.

Michelle Collins Rishi was robbed last year. Nearly stopped me watching it this year. Go Rishi

Raine Mitchell Go Rishi, the true Masterchef 2013! Congratulations on your first cook book!

SharonMargaret Needham Well done Rishi! Hope we can get the book in the UK ( totally agree with the Emma comment about her being helped all the time – it didn't seem fair her winning somehow!) Masterchef Australia is the best. Hurry up onto our screens again in the UK – can't wait

Prabhavathy Sekar Good luck Rishi… I missed u in the finals of s4 so badly.. U were really doing so well.. Anyways.. Everything is for a good cause… Keep up ur focus and passion towards cooking!! My best wishes!!!
Original Post from Masterchef Australia Facebook page