Jabra Street 2 Bluetooth Headset DogTag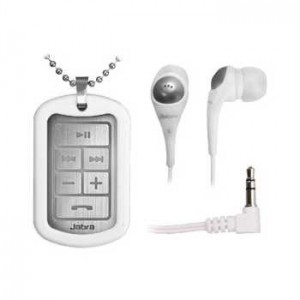 Jabra has infused style into its latest prodcuts, The Street 2 is a small rectangular device with black edging, having a 3.5mm jack and silver base containing play, backward, forward, volume up/down and call control.
The connected earphone can be used for both music and calls. Holding the call key activates the headset and pairs instantly over with your smartphone as well. While making calls, it supports voice controls. The sound clarity is clear at both ends and the headset is soft on the ears. While the play key brings the music to life, the next row of keys assits in changing the tracks.
It can stay active for around 6 hours on both music and calls. also, it is water proof. It's a cool looking dogtag which is actually a bluetooth headset device, youngsters will definitely love it.
In India, the price of Jabra Street 2 price is around 3,700 INR.