Halo 5 Guardians Digital Deluxe Edition Goes Cheap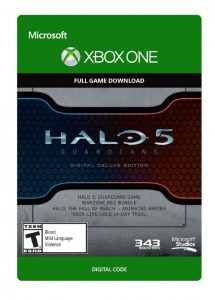 CD Keys is having great deal on Halo 5 Guardians Digital Deluxe Edition for just 18.99 USD (£ 14.99, € 17.19, 26.19 AUD).
Digital Deluxe edition includes full base game + Warzone REQ Bundle + Halo: The Fall of Reach (Animated Series).
The standard edition is 39.99$/64,99€ on the Microsoft store so this is the best price as it's cheaper than the standard edition.
The Warzone REQ bundle is $25 on its own on Microsoft Store, and it will help immensely if you're just starting out in Warzone as you will have some better weapons and vehicles to choose from.
This is a great deal I think.
CD Keys is also selling Halo 5 standard edition for $ 16.09 (£ 12.99, € 14.89, AU$ 21.39).