Morgan Freeman – Rags to Riches (an extra actor to God)
Morgan Freeman has really come a long way in his career. When I say – rags to riches, i mean in terms of his acting career where he started as en extra. He'll be seen as a host in upcoming NGC series The Story Of God. Few people know that Freeman served 4 years in US Air force before starting a career in acting.
Let's have a look at his acting career's path.
Start as you can
Following four years in the Air Force, Morgan Freeman walked the boards off-Broadway (The Nigger Lovers), before appearing as an extra in the 1964 movie
The Pawnbroker
. However, his breakthrough cam with his role as a New York pimp in
Street Smart
(1987), for which he received an Oscar nomination for Best Supporting Actor. Even Morgan agrees that this role was the one that put him in the game. "It put a rocket booster in my career," he recalls. "Since childhood, all i wanted to do was make movies." His most recognizable early role was as the stern principal in
Lean on Me
(1989).
History Lessons
"
Glory
(1989) does what I think movies are best at, and that is giving you a lesson in history," he says. He also considers the Civil War drama as one of the most important films he has made. He's also appeared in a Spielberg movie:
Amistad
(1997), which was a flop and that's very rare for Spielberg. "People thought it was a picture about slavery. But it wasn't. It was about American jurisprudence." He's also played civil rights campaigner in two TV documentary series, as well as Nelson Mandela in
Invictus
(2009).
Detective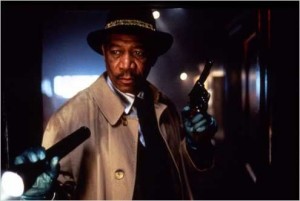 Morgan Freeman has pursued killers as Alex Cross, twice, in Kiss the Girls (1997) and Along Came a Spider (2001). He also teamed up with Brad Pitt to hunt down the serial killer in Se7en (1995).
Not only he investigated murders, he has also investigated how magicians do their tricks in Now You See Me (2013), and will replay his role in the sequel Now You See Me 2 (2016).
Oscars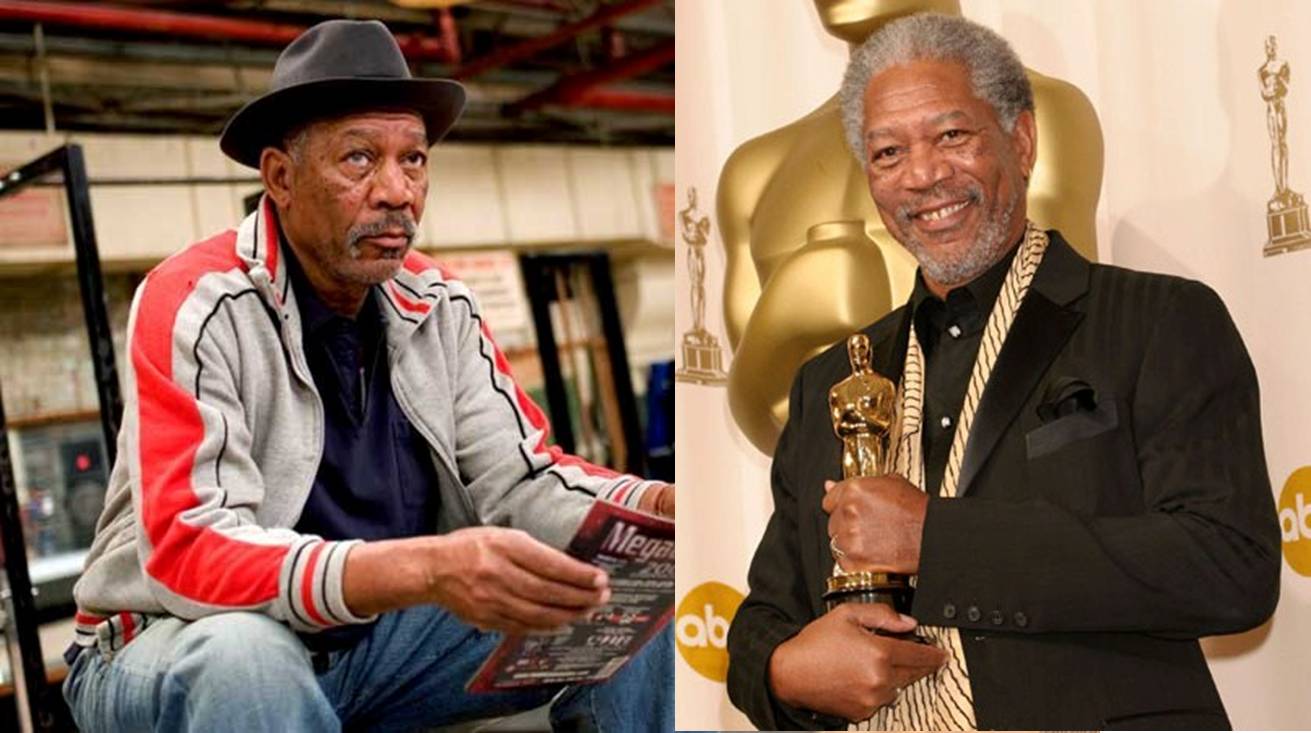 Following his 1998 nomination for Street Smart, Freeman has been up for an Oscar on four further occasions:  a Best Supporting Actor for Invictus, as well as Best Actor nominations for Driving Miss Daisy (1989) and The Shawshank Redemption (1994). He finally claimed the academy award for Best Supporting Actor in 2005, for his role in Clint Eastwood's Million Dollar Baby (2004).
Make us Undestand
"How come when something convoluted needs explaining, you show up?"
How would've we learned the martian's fate in the War of the Worlds (2005), if it was not Morgan Freeman as the narrator? Or how we had hoped to understand (or not) the plots of Transcendence (2014) and Lucy (2014)?
God Mode
With his air of dignity and authority, Freeman always suspected that one day he would be asked to play God, and he accepted Bruce Almighty (2003) only because it was a comedy. He would also offer some divine assistance in sequel Evan Almighty (2007). Fittingly, Freeman has just signed on as host of the National Geographic series The Story of God (2016).
Other Roles
Freeman has an awesome voice and that is the reason he has been a narrator in various movies and documentaries. He has also lend his voice for GPS navigation for the Google Waze App. (Youtube Video)
Who can forget his role of Ned Logan as Client Eastwood's friend in Unforgiven (1992) and Batman's ally and CEO of Wayne Enterprises, Lucius Fox, in Christopher Nolan's Batman: The Dark Knight Trilogy.