Angels and Demons Movie (2009)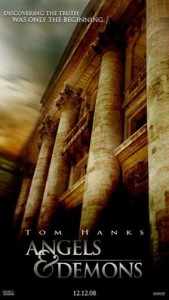 It was not long time back when Dan Brown's Novel "The Da Vinci Code" was fashioned into a Tom Hanks starrer movie and all the theatres were packed to watch the author's masterwork on the silver screen. In 2009, Columbia Pictures will be back with a new movie based on another novel by Dan Brown and this time it is "Angels and Demons".
On a personal take i have always found "The Da Vinci Code" to be much hyped novel and movie in turn. On the other hand, "Angels and Demons" is far more interesting and has a storyline better suited for a movie. This novel tells the resurgence of an ancient secret underground society know as "Illuminati" which is at its missions against the Catholic Church. A Messenger of Illuminati announces a time bomb at the very heart of Holy Vatican City. Langdon joins Vittoria Vetra to prevent this mis-happening.
The movie will star Tom Hanks as Robert Langdon alongwith Ewan McGregor who plays Carlo Ventresca. The role of Vittoria Vetra, a beautiful and mysterious Italian scientist, is played by Naomi Watts.
The movie will be a prequel to "The Da Vinci Code" and is being directed by a fame director Ron Howard.
Let us wait for this movie as I can bet this is going to be far better than its already released sequel.