Slaves to Cheap Publicity
People in our beloved nation, India, are slaves to cheap popularity. They thrive to be popular by debasing popular and famous personalities. What wrong did Sania Mirza does when she was relaxing with having her feet on the table with the Indian flag on it? What wrong did Sachin Tendulkar does when he cut a tricolor cake?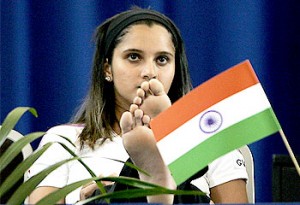 [Sania Mirza sitting with her feet facing national flag]
Well, anyone can sit in the way Sania was sitting for which she got in the trouble. But only because she is famous she had to face this all. But still there is one thing that I see wrong in Sania. She played in the Australian Open during the controversy so why not she is playing for India. I agree she wants to show her disappointment but I don't think this is the right way. She is not playing for India because the platform is not that big, famous and lucrative as Australian Open. No one and nothing should stop a person having pride in his/her nation to show his/her love, respect and faith for the country.
Sachin Tendulkar's episode was really blown out of the proportions. He was scrutinized for cutting a Tricolor cake at an Indian High Commission's function. The function was hosted by the Indian High Commission and so it should be the one to be blamed for the cake, but no it won't be the scoop. TV Channels found defaming a personality who takes pride in having the tricolor on his helmet while playing internationally.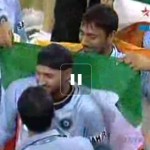 Why aren't there any news on the channels about the spectators in a sports game waving the flags upside down? Why don't so called Country Lovers take actions on the people who stamp on the national flags lying on the ground on 27th January and 16th August? No, they won't do it as it's not the news and it won't make them famous, this is what they think. In fact if they really love the country they will really get famous by reporting and punishing each and everyone who defames the pride of the country. But for this they have to give up cheap publicity.